Security Templates
The Security screen looks quite simple; the single screen is all there is to it, but don't be fooled: SASE provides a great deal of flexibility. The key to using SASE is in understanding three terms: Templates, Users, and Objects.
Users are Employees or Contacts (if you are using WebSAFE™) in Simple Accounting. You may assign as many Employees and Contact as you like to a Security Template, however neither an Employee nor a Contact may belong to more than one Security Template.

Objects are the things you work with in Simple Accounting. For most users this means the particular menus, windows and reports they will look at or print, but it could also mean a particular button, data entry field or other item on a window. Each object you specify either allows or denies access to the users of the template. If a user is denied access to an Object, the object is either rendered invisible to the user (ie. it simply does not appear on the screen) or the user is presented a message that the task he/she is attempting to perform is not permitted. Virtually all objects may be turned on or off (enabled or hidden from the user).

Security Templates describe a set of Objects which are shared by one or more Users. In other words, any Objects you create in a Security Template are automatically applied to all Users who are assigned to it. You may set up as many Security Templates as you need. For example, SASE comes with three basic templates:

Administrators

Customer Service Representatives

Salesmen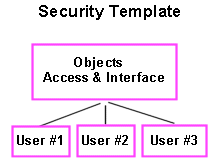 Basic Procedures
CREATING A SECURITY OBJECT
To create a Security Object which will apply to all Users in a Security Template, do the following:
Select the Security Template in which you wish to create an Object.

Press the [Insert] button.

Select an Object ID from the Drop Down List (or, if you have been provided with a special ID from us, type this in manually.

If necessary (it usually is) check the Allow Access box.

Press [OK] to save the Object.
COPYING OBJECTS FROM ONE TEMPLATE TO ANOTHER
You can easily copy an object from one template to another:
1. Select an object you wish to copy from the Access Window
2. Right click on that object, then select Copy.
3. Select the template you wish to copy the object to.
4. Right click anywhere on the Access Window
5. Select Paste from the drop down menu.
DELETING OBJECTS
To delete a Security Object, press the [Delete] button underneath the Security Objects Window. If you delete an object, the behavior of the object reverts to it's default for all users in that template.
More On Objects
Any changes you make to a template are immediately applied to all users assigned to that template. If you change your mind about a setting, no problem: you can always change an object and know that it's effects will become immediately active for all it's users.

Objects at a higher level affect other objects. For example, it is very common to hide the Checkbook object from the main menu. This will hide all other objects attached to this menu (the other menu items.) There is no need to tell SASE that you wish to hide each menu item; as you would expect, hiding the Checkbook menu is all you need to do.

Every Object has a default behavior. This means that, if you have not entered an Object into a Security Template, Simple Accounting will perform in a particular way for all users in the template. This saves you having to enter an 'Allow' or 'Deny' entry for every possible object in Simple Accounting. (There are over 10,000 at last count!)
Example: To print customer invoices in Simple Accounting, a user must have a Print Customer Invoices object specified with 'Allow Access' in their Security Template. This is because the default behavior for printing a customer invoice is to prevent all users unless they have an entry in a Security Template which allows them to do so.
Example: However, for many other objects, the default behavior is to allow access. The Main Menu in Simple Accounting works in that fashion. In other words, all users see all options on the Main Menu unless you specifically deny access to a particular object (Menu Item) by creating an entry into a Security Template. Said in another way, 'if you wish to hide a menu from all users in a Security Template, you have to add the object to the template.
The upshot is that almost all templates you create will only have a few entries specifically to deny or allow access to a handful of key functions. Setting up templates is therefore quick and easy once you know what it is you wish to do.
More On Templates
COPYING TEMPLATES
Since a user cannot belong to more than one template, you may need to plan your templates. It is common to create a new template which is similar to an existing one to handle the needs of one particular user. (Of course, it is possible to have a separate template for each user but our recommendation is to have as few templates as possible.)
To create a new template from an existing one:
1. Select a template you wish to copy from the Template Window
2. Right click on that template, then select Copy.
3. Select the template you wish to copy the object to.
4. Right click anywhere on the Access Window
5. Select Paste from the drop down menu. This creates a new template with all the Access Objects of the source template but with no Users linked to it.
6. You can then re-assign the Users you wish to the new template using the [Assign] button in the User Window.
DELETING TEMPLATES
If you delete a template, the behavior of all objects, for all Users in the template, reverts to the default.
Security Is Secure
Options for each Template are stored in hidden data files similar to other Simple Accounting data files. However, these files are encrypted and are virtually impossible to decipher outside of the SASE program. For added protection against the curious, these data files are hidden from view both in Explorer and from the command prompt.

Last Revision:
06.26.2012